From 2016 to 2018, five CARICOM Member States conducted National Prevalence Surveys on Gender-based Violence. This report examines the processes used to collect data in the region, highlights the key takeaways from survey implementation, captures context-specific experiences in collecting data on VAWG and presents the key lessons learned from the countries' experiences. Funded by UN Women, UNDP, USAID, the Inter-American Development Bank and the Caribbean Development Bank, the surveys...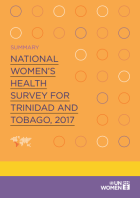 The National Women's Health Survey for Trinidad and Tobago survey analysis reveals that in the 15 to 64-year-old age bracket, over 100,000 women in Trinidad and Tobago have experienced one or more acts of physical and/or sexual violence perpetrated by male partners; approximately 11,000 are likely to still be in abusive relationships.
While the quality of administrative data on violence  against women has vastly improved over the past few decades, data has never been available on the prevalence of violence against women in Trinidad and Tobago. After reviewing various models of assessing the prevalence of gender-based violence, the United Nations Entity for Gender Equality and the Empowerment of Women(UN Women), CARICOM statistical experts and the CARICOM Council of Ministers of Human and Social Development agreed to...